Time to Reframe?…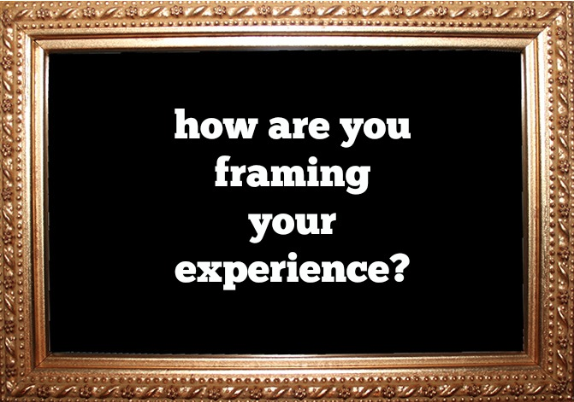 As a multi-disciplinary artist who's constantly in one phase or another of the creative process, I'm used to the point at which fear rears it's gnarly head and roars ferociously in my face. It tends to show up right before I'm about to share a new creation with someone outside my inner circle. And, in the past (prior to my regular mindfulness practice…) this more often than not would halt any further forward momentum. I'd either stop working on the particular project, or I'd end up sabotaging it in someway.
Thankfully, I've learned how to mindfully persevere through challenges and keep marching my projects forward. My meditation practice has helped me build the necessary "muscles" to sit through the soul quaking fears that arise—riding them out and letting them move through me without destroying my work or myself in the process. And I've made it through this phase in my creative process enough times now that I didn't think it was possible it could stop me again.
But the second I start getting cocky and stop paying close attention—I always get knocked on my ass.
Which is exactly what happened a few weeks ago…
I was deep into preparations for my solo show debut in the Hollywood Fringe Festival – 10 days away from opening night, when the fear kicked in. But this time, it wasn't just fear. It was soul-quaking, debilitating terror. Nightmares for a week straight—all about loss of control and not knowing how to get myself out of life-threateningly dangerous situations. I'd wake up with crippling anxiety every morning, petrified of a judging audience doing nothing but seeing my every mistake and ripping both me and my show to shreds. No matter what I did, I wasn't able to shake my fear.
And then, I had a dream in which I was faced (once again…) with the eminent threat of death. In the dream, an omniscient voice said to me "you have the power to change the way you're experiencing what's happening that will change everything for you." Still panicked, I shouted back to the voice, "But I don't know HOW!…"
When I woke up, the voice stayed with me—its' words resonating throughout my day. Maybe there's a way I can shift my point of view and reframe the way I've been seeing this upcoming solo show performance…
Later that day, I was chatting with a dear friend and fellow mindfulness geek, and it occurred to me that, instead of seeing the audience as a group of critics out to judge and scrutinize every mistake I make—I could choose to see them as a benign group of supporters happily cheering me on and wishing me success, instead.
As soon as I saw the choice I had in the situation, something immediately opened up for me. I was able to connect to my role as a creator and reframe my experience from the point of view of sharing the gift of my story—a gift the audience wants to receive.
My fear then shifted to excitement and joy. And it happened in an instant.
From that point forward—my anxiety evaporated, the nightmares ceased, and I felt genuinely excited about sharing myself and my work with the world.
I then consciously chose to focus my attention on this excitement (that part was key). Sure, my mind darted back to the terror and fear every once in a while. But I was able to catch myself, let the fear move through me—and then bring my attention back to the joy and my intention of creating a positive relationship with the audience, instead.
Looking back on it now, I can see how what I did was simply apply a variation of the mindfulness meditation "technique" to my difficult situation—consciously disengaging from the challenging thought (or negative mindset, in this case…), letting the thought/mindset dissipate, and then redirecting my attention back to a more helpful anchor (the idea of giving the gift of my story to the audience).
The voice in my dream was right. I really do have the power to change my experiences. Now the real trick is remembering I have the power!…