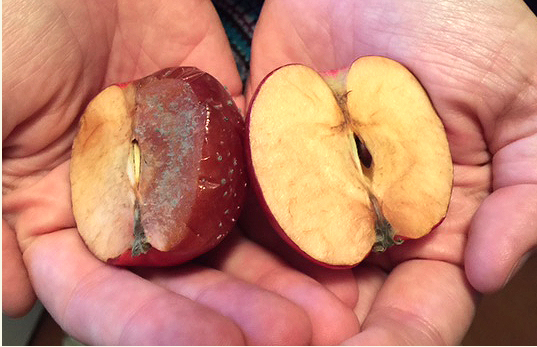 ("bad" apple on left and "good" apple on right)
A few years ago, my family conducted an experiment to see how words might physically effect our bodies. Our 7 year old son had started developing a habit of saying mean things to himself when feeling down – like, "I'm stupid." And "I'm the worst." My partner and I had been trying to get through to him that saying unkind things to ourselves (as well as to others) leaves a damaging impact. But, he just wasn't "getting it."
And then I remembered having seen the amazing results of a fascinating experiment Danielle LaPorte conducted with her family—where they talked smack to one half of an apple for a certain period of days, and loved up the other half. Admittedly, I felt somewhat skeptical about whether or not we could achieve the same results. But we decided to go ahead and give it a try.
To start the experiment, we took a fresh apple, cut it in half, and placed each half in a separate, airtight jar. We labeled one of the halves "Good Apple" and the other "Bad Apple," and we left both sealed jars on a dark shelf in the corner of the kitchen.
Every day we said kind, loving, encouraging things to Good Apple—and mean, nasty, discouraging things to Bad Apple.
And 20 days later…